Investment Strategy (ISNI)

Development and maintenance of a long term Investment Strategy for Northern Ireland (ISNI) is one of SIB's core statutory responsibilities as set out in the Strategic Investment & Regeneration of Sites (Northern Ireland) Order 2003.
The principal objective is to set out a clear framework for future investment in major capital projects across the region in order to assist in their planning, financing, procurement and delivery.
The ISNI is drafted by SIB on behalf of Ministers, working closely with the Executive Office and Department of Finance, and with officials from the spending departments. It is one of the Executive's three high level policy documents, published alongside and consistent with the Executive's Programme for Government (PfG) and Budget.  It sets out the Executive's plan for capital investment by all departments and arms-length bodies for the 10-years ahead, including transport infrastructure, schools, colleges, health facilities, social housing, water infrastructure and public sector office accommodation.
The Executive published its first ISNI in 2007, covering the period 2008-2018. The current ISNI was published by the Executive in 2012 and covers the period up to 2021.  Over the eight-year period to 31 March 2019, almost £10.6 billion was invested in public infrastructure under ISNI. Current estimates indicate that by 31 March 2021, a total of over £14.8 billion will have been invested in Northern Ireland (over a ten-year period). This exceeds the £13.3 billion anticipated when ISNI 2011-21 was published in 2012.
SIB also monitors the delivery of capital projects funded under ISNI and issues regular reports to MLAs, chairs of Assembly committees and industry stakeholders, and maintains the ISNI Information Portal to inform stakeholders and the public on progress with schemes in development that are funded under ISNI.
The current ISNI is coming to an end, and an updated Investment Strategy for Northern Ireland, covering the period 2021-31, is now being developed by SIB alongside work by TEO to update the Executive's Programme for Government (PfG).  As in previous years, it will set out planned expenditure for the following areas:
Productive Economy (Industry Support, Agriculture & Rural Industries, Government Administration, Tourism
Networks (Transport, Energy, Telecoms/digital infrastructure)
Learning and Skills (Schools, HE/FE colleges, Libraries)
Health and Social Care (Primary Care, Hospitals, Social care, public health and Emergency Services)
Social and Community (Social & Affordable Housing, Culture, Sport, Arts & Leisure, and Justice)
Environment (Carbon reduction, Climate change and resilience, Water & Waste Water, Waste Management, Flood Risk Management and Biodiversity)
The majority of the finance for ISNI comes from the NI Block Grant. In addition, there are 39 operational Private Finance Initiative (PFI)/ Public-private Partnership (PPP) schemes in Northern Ireland; these have delivered capital assets financed from private sources.
Project Status
ISNI is an ongoing project within SIB.
SIB Involvement
SIB leads all aspects of the development, implementation and monitoring of ISNI. This includes:
Monitoring progress by departments in the development and delivery of schemes funded under ISNI;
Commissioning research on future infrastructure needs of the region and future trends;
Developing and utilising Strategic Infrastructure Planning Models (SIPMs) to assist departments and agencies to plan ahead with a robust evidence base;
Developing and using the ISNI Jobs Model to assess the impact of capital investment on construction and related industry jobs, and wider jobs impact in the economy;
Consulting with and informing a wide range of stakeholders with an interest in ISNI;
Developing future iterations of ISNI, working with colleagues in the Executive Office and the Department of Finance in relation to priorities and budgets; and
Maintaining broad market awareness of trends in infrastructure finance markets.
See also:
---
The New Investment Strategy
The ISNI is being developed over the coming months and is concerned with investment in our economic and social infrastructure.  It is structured around key pillars, each with sub pillars that reflect the lead departments' responsibilities.
Pillars and Sub Pillars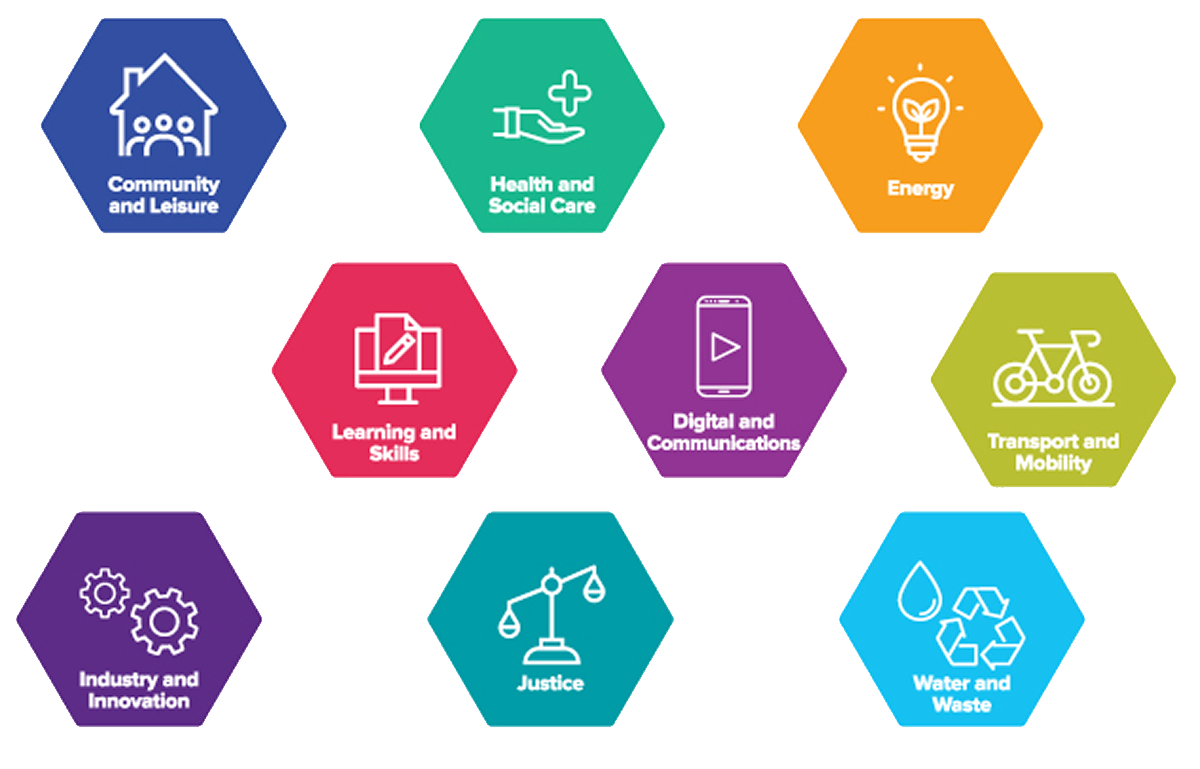 Transport and Mobility – includes our gateways (airports and port), public transport including both bus, coach and rail services (and taxis) and facilities for pedestrians and cyclists as well as the strategic and local road network.
Skills and Learning – includes our schools' estate and youth services, further and higher education facilities as well as lifelong learning and libraries.
Energy ­– this pillar includes our energy generation, including from renewable sources, storage and distribution to both residential properties and businesses.
Health – includes our primary health care such as GPs and pharmacies, as well as our hospital facilities.  With an ageing society this pillar will also include our social care facilities.
Communities and leisure – this broad pillar includes regeneration, housing as well as the broad areas of arts, leisure, sports and heritage
Water and waste ­ – our water treatment, storage, distribution and management of wastewater and our other residential and commercial waste will be important elements of this strategy.  With climate change there is also growing attention on the need for flood risk management and environmental management.
Justice – encompasses the criminal and civil justice system including police, probation, prisons and the courts estate, as well as public safety and "blue light" services.
Digital and Communications – this new pillar recognises the increasing importance of the use of digital services, data and 5G.
Industry and innovation – this pillar will include our investment in research and development, innovation and business support, across all sectors – from primary industries to manufacturing and professional and technical services.
Call for Evidence
As in the past ISNI is underpinned by extensive research and evidence as well as stakeholder engagement with citizens, statutory, private, and voluntary/third sectors, and with other relevant organisations.
SIB would welcome your views on the development of the next ISNI and you can do this by responding to the Call for Evidence https://www.surveymonkey.com/r/3HYWYNG by end of April 2021.
For further information, contact the ISNI team Contact.ISNI@sibni.org